Creamy Strawberry Crepes
Whether you have plans to share a romantic Valentine's breakfast with your significant other or a family reunion with something other than pancakes, this is one of the most requested recipes from the Brass Lantern Inn kitchen. Key here is to use a blender and make up the crepe batter the evening before and let it chill in the refrigerator, overnight. We typically serve these with a fresh bowl of fruit and a side of maple glazed, applewood smoked bacon...!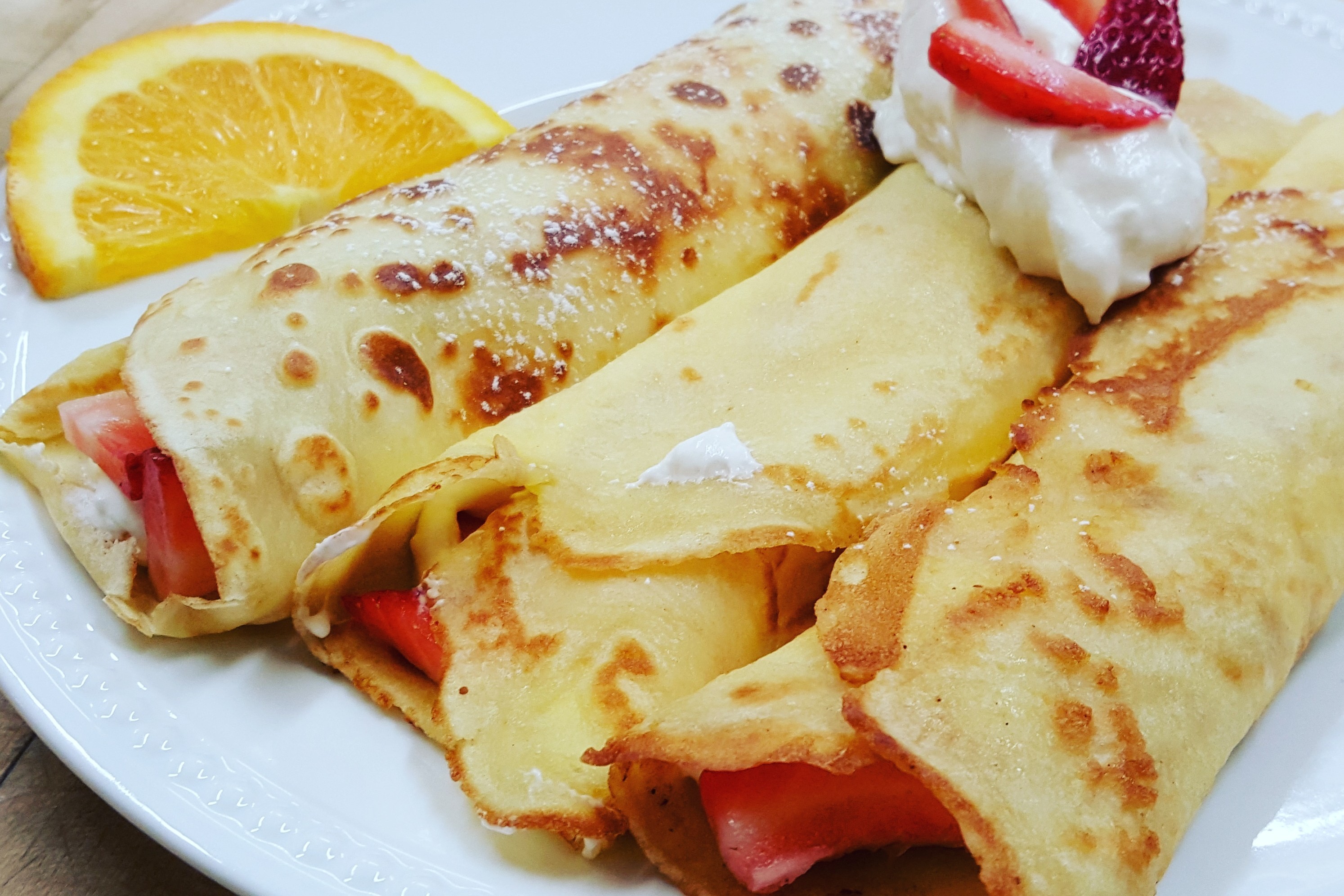 Ingredients
This Recipe yields about 14 crepes
Ingredients for the Crepes
2 Cups of Milk
4 Eggs
3 Tablespoons of butter, melted
1 Tablespoon of sugar
1 Teaspoon of vanilla
1/2 Teaspoon of salt
1-1/2 Cups of sifted flour
Ingredients for the Creamy Strawberry Filling
1 8 ounce package of cream cheese, softened
1-1/4 Cups of sifted confectioners' sugar
1 Tablespoon of Lemon Juice
1 Teaspoon of Lemon Zest
½ Teaspoon of vanilla extract
1 Cup of heavy cream, whipped
3 - 4 Cups of sliced strawberries
Directions
Instructions for Crepes –
1. In a blender, combine all of the ingredients and mix until batter is smooth (20 to 30 seconds)
2. I find the batter is best if you make it up the night before and store it in the refrigerator
3. I use a 10" skillet lightly buttered with ¼ of crepe batter ladled into the center. Then, pick up skillet and swirl it around to distribute the batter evenly. Temperature of the skillet is key to getting slightly crispy crepes
4. Cook the crepes about 2 mins. per side or until lightly brown with a bit of crispy edge as a bonus!
5. Remove finished crepes and stack on plate, cover lightly with a paper towel to maintain warmth
Instructions for the Creamy Strawberry Filling
1. Blend the cream cheese, confectioners' sugar, lemon juice and zest, and vanilla with an electric mixer until smooth.
2. In separate bowl, whip the heavy cream until firm
3. Gently fold in the whipped cream
4. Spread cream onto crepe, add strawberries, roll up and finish with a dash of powdered sugar