6 Must-Try Fall Activities in Stowe, Vermont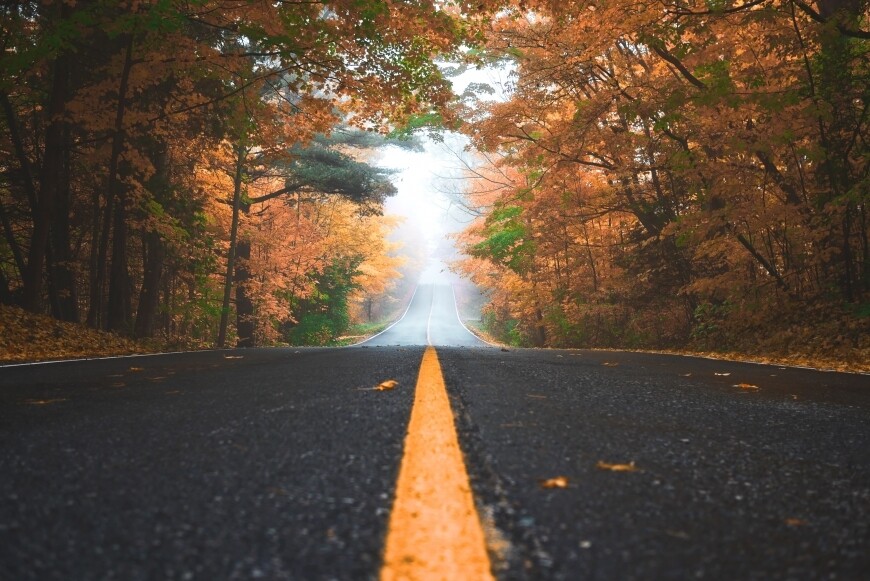 The leaves are falling and autumn is calling! Stowe, Vermont is the perfect place to soak up the fall breeze and the autumn leaves. We are lucky to have four seasons in Vermont, but I think we love fall most of all.
As autumn shows us how beautiful it is to let things go, we want to show you just how spectacular it can be.
Whether you are engaging in local brewery festivities or exploring the great outdoors, Stowe, Vermont has all that you could possibly want in a fun fall adventure.
Here are 6 must-try activities in Stowe, Vermont:
Make it to the top of Mount Mansfield, Vermont's Highest Peak
Mount Mansfield reaches 4,394 feet and is one of only two places in Vermont where you will find an arctic-alpine tundra ecosystem with rare plants that can only be found in such high-windswept climates. It got its name because when viewed from the east, it resembles the profile of a giant, sleeping face.
More than 40,000 visitors make it to the top of Mount Mansfield each year, whether you make it to the top via auto toll road at the Stowe Mountain Resort or by foot. If you prefer hiking, there are a few trails up to the top of Mount Mansfield, but we recommend starting in Underhill State Parking and hiking the Sunset Ridge Trail.
Mount Mansfield is one-of-a-kind and is the most beautiful place to hike during the Vermont fall foliage season.
Take a Factory Tour of Ben & Jerry's
If you haven't yet, you must take a Ben & Jerry's Factory Tour. This is a 30-minute guided tour that gives you a behind-the-scenes look at (and taste of) everyone's favorite ice cream. When you arrive, you will watch a video of Ben & Jerry, the two friends' that started the company.
You will receive a full recap of the history of the company, including their first scoop shop in a renovated gas station. You will then get a view of the production line that sends out more than a quarter of a million pints daily, followed by a tour of the Flavor Lab.
Last but not least, and most importantly, you will get to sample the flavor of the day ice cream, which is only available on the tour. Be sure to pay tribute to old favorites at the Flavor Graveyard, and stop in at the gift shop for coffee mugs, t-shirts, etc.
Visit the Infamous Cold Hollow Cider Mill
No trip to Vermont is complete without a stop for fresh apple cider donuts and pressed apple cider at Cold Hollow Cider Mill.
Cold Hollow has been making their legendary donuts for 25 years. They have a secret recipe, unfortunately. No making these legendary donuts at home! During the fall, they turn out more than 800 dozen donuts a day. Enjoy a cup of the famous cider from the large sample tank while you watch the human pressers make it right in front of you.
Walk around the quaint gift shop and buy your loved ones a thoughtful souvenir. Bring home a gallon or two of cider and do not worry, you can order the cider and the donuts online for a taste of fall all year round.
Zip Tour Adventure
Take in the bird's-eye view of the gorgeous scenery at Stowe Mountain Lodge. Launch from the top of Mount Mansfield after taking the Gondola to the top. This is one of the longest and fastest zip line tours in North America. The ZipTour consists of three zip line spans, with two side-by-side cables that enable you to share the views with a friend.
Strap on a GoPro to document your experience, that way you can relive it in the middle of the cold, harsh winter.
Sip on a Local Beer at a Nearby Brewery
Vermont is home to 50 local breweries, and you can find three of them in Stowe, Vermont. Whether you are interested in sipping on an infamous IPA or a savory sour or stout, there is something for every taste bud.
Secure yourself a sunny spot on the back deck at Idletyme Brewing Company and enjoy their class American farm-to-table food.
Afterward, head on over to The Alchemist Brewery where you can indulge in the iconic Heady Topper and witness the very modern and open architecture design of the new and improved building.
Finish your tour at von Trapp Brewery and BierHall where you will experience a change of pace from the IPA scene and sip on a lager or pilsner that is commonly distributed throughout New England. You won't want to miss out on the food or the views either, they are absolutely breathtaking, especially during the fall.
Discover our historic covered bridges
Vermont has the perfect backdrop for your fall foliage scene. We are happy to highlight maps, your know, the old fashioned paper type with a highlighter! Did you know that there are at last count, 100 covered bridges in the Green Mountain State? Vermont has the highest number of covered bridges per square mile in the United States.
It makes a perfect send-off to your Vermont fall foliage vacation.
Happy Travels,
George
Next Blog Post
It is the most beautiful time of the year, here in Vermont. The leaves are changing, the temperatures are dropping and the hospitality and tourism businesses are in the midst of their peak season.