Golf, Anyone?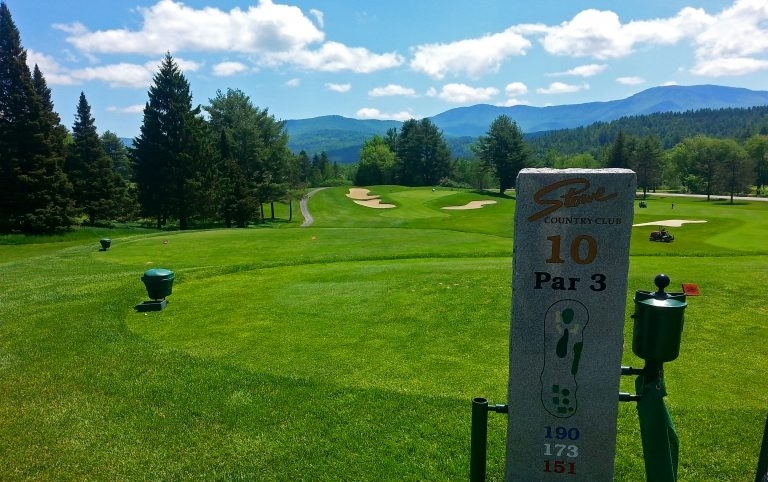 With a "backyard" of Vermont such that we have here in Stowe, I have a lot of outdoor passions to enjoy with golf being right up there at the top of the list. While it is true our distinct seasons put a premium on the number of available days for golf, we are really quite fortunate to have so many wonderful courses right here in Stowe, within 10 miles or so radius, and at several nearby mountain resorts.
Admittedly, Stowe might not be the type of golf destination that golfers think of but I can tell you that with even some basic planning you can experience unique mountain golf setting that I believe easily rivals many other golf destinations. I have golfed at many of the courses in the area and would enjoy the opportunity to help you coordinate a stay here with several golf options.
My local favorite is Stowe Country Club which is just a five minute drive from the Inn. The course has these incredible views of the nose of Mt. Mansfield, the peak of Camels Hump, the broad face of Elmore Mountain and glimpses of Spruce Peak. Especially for a first time golf experience at SCC, it may be hard to "keep your head down" for any golf swing given the incredible scenery all around you.
Through a special partnership that we have with Stowe Country Club we can offer you an amazing golf experience for an equally amazing value. Stay two or more nights here at the Brass Lantern Inn and add our "Golf Day" Package and you will get "Unlimited Golf" for the day (replay subject to availability), range balls and cart. Total cost for TWO golfers for a day of Golf at Stowe Country Club: $159.00. I know, what a great deal, right? If you set your first tee time for 9 a.m. you can have a leisurely lunch, and have a replay round of golf in the afternoon. Two rounds of golf (36 holes each golfer), range balls, and cart for less than $80.00/person! Call us and we can set this up for you before summer and fall slip away.
Tag on a round of golf at nearby, Jay Peak or Sugarbush, both approximately 45 mins. drive away for a really special golf holiday.
See you outside,
George
Next Blog Post
Recently, I finished a six week Mountain Bike Clinic through Four Points Vermont.  In a class of 10 riders with two instructors led by our business to business partner and friend and owner of Four Points…