Happy Anniversary (To Us This Time!)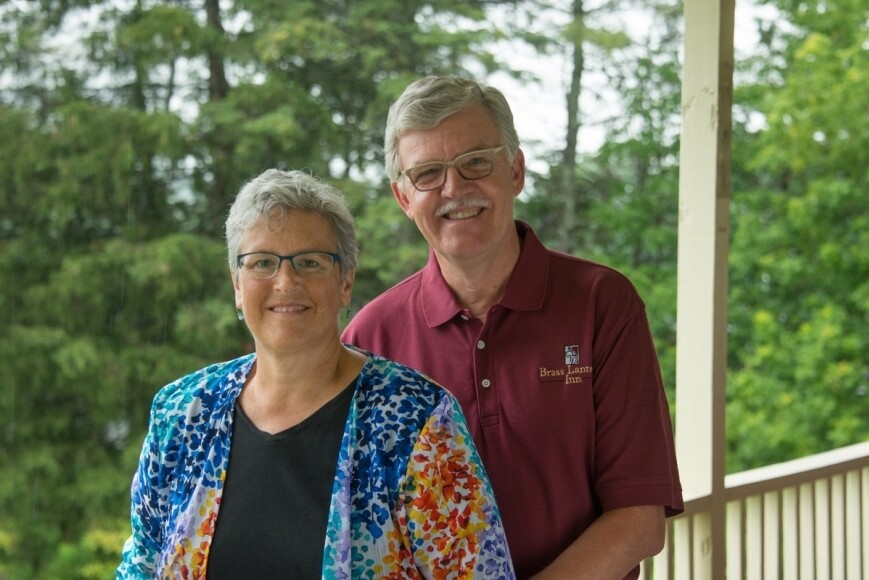 This coming December 29th, Mary Anne and I will be celebrating our 30th wedding anniversary! We will also be celebrating our 5th anniversary as Innkeepers of the Brass Lantern Inn which will occur on the 16th of December, 2014.
In both cases it's amazing to realize how quickly time and events pass through our lives. For our wedding anniversary, we have, in part, Stowe to thank as this was the special place where Mary Anne and I first crossed paths in that fateful summer of 1983. It was that summer where I met Mary Anne here in Stowe at the start of a week long, guided bike tour of Vermont. Who knew that 26 years later from that summer encounter that we would find ourselves back here in Stowe. And of course we never imagined at that time that we would return here as Innkeepers of the Brass Lantern Inn. Ok, to be fair, the Brass Lantern Inn, Bed & Breakfast, didn't exist in 1983, but, you get the idea!
As Innkeepers, the stories that we have shared with so many literally thousands of guests over these past 5 years could fill pages and pages of blogs. Fortunately, I am usually so busy experiencing this life that I typically don't have time to record it on this keyboard. Our guests provide us with a renewed sense of excitement about Stowe and this area of Vermont as we get to see this place through each guests' unique perspective (each and every day). Throw in how very different this setting is with each passing season and you can see how life just quickly marches on with us just trying to squeeze every moment and experience all that we can from it in passing.
So, you see, these two anniversaries are really so very intertwined that it is impossible for me to respond to those guests who ask, "what brought you to Stowe?" and "what made you want to be an Innkeeper?" without mentioning our very personal connection to this unique place in Vermont.
And finally, to finish this celebratory note I give a nod to the Thanksgiving holiday – we are so very grateful for this opportunity we have had as Innkeepers over the past 5 years. We have and know that we will continue to meet funny, touching, gracious, caring and friendly guests that in many instances become our most recent friends. I am so very thankful that I had that chance meeting with my incredible wife, dearest friend, Mary Anne, and know clearly that without her I would not be living this dream today. Thank you my dear!!
Happy Thanksgiving all. Hugs to our friends,
George
Next Blog Post
Of the many "perks" that we feel come with this "job" as Innkeepers, certainly, one of the most rewarding is the opportunity to welcome back friends from one or many more previous stays.  This past weekend…