Look Past the Obstacles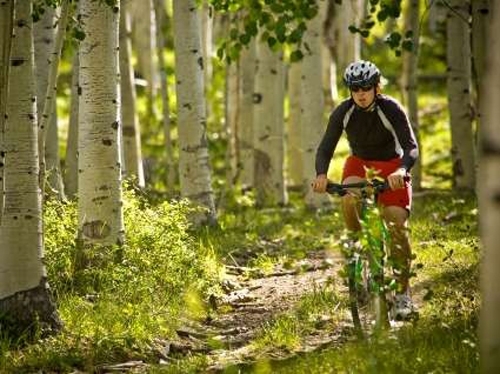 In the spring of 2016 I had the opportunity to take a 6 week (one night a week) Mountain Bike Clinic with the IMBA Certified Instructor and owner of Four Points Mountain Bike School, Rick Sokoloff (and past President/Founder of Stowe Mountain Bike Club). Ultimately, Rick taught me much more than just how to safely navigate the trees for the forest within some of the amazing local single track mountain bike trails of Trapp Family Resort or Cady Hill Forest.
One of the many lessons learned over the course of that clinic and one that clearly spans a much wider influence on me other than mountain biking, was the coaching from Rick that I still hear in my head as I zig and zag through the woods; "stay loose" and "look beyond the obstacles." These two instructions, I can attest, have informed me of how to navigate my mountain bike through the wood while also guiding my latest life's adventure as co-owner/Innkeeper of the Brass Lantern Inn here in Stowe, Vermont.
As a road bike enthusiast and bike touring veteran, my focus on the paved roads was to keep my vision very close to the immediate obstacles. That focus in concert with my awareness of the vehicular traffic from behind keeping me safely on the seat of my bike. From that first mountain bike lesson I realized my concept of seeing, minimizing and hopefully avoiding the obstacles of this new terrain in the woods was going to need some radical adjustment. I discovered a very strong relationship with identifying the obstacles but trusting muscle memory and the technology in today's mountain bikes to avoid injury and allowing me to ride again the next day.
On the mountain bike I've discovered, very first hand, that if I keep my focus on that boulder, the one just a bit off center of the trail, just beyond the knobby front tire of my bike that, guess what, if I keep my eyes on it, I will absolutely run smack dab into that boulder. And transfer "boulder" for "tree" or "edge of bridge" or any number of other obstacles on the trail and the same reality applies. Hard lesson(s) learned early on. Fortunately, by maintaining a conservative speed on the bike, and that coaching from Rick from directly behind me on the trail, it left only my pride hurt and thankfully no real damage to me or the bike.
As part of the clinic, Rick had our class practice drills on an open field with just small orange cones spaced in the layout of a slalom course to help us train our brain to look past the most immediate cone to the next cone all while keeping a peripheral eye on the cone we were just passing. My brain did not trust that my inexperience of this concept would allow me to safely navigate the course and not roll over each and every one of those cones. With lots and lots of practice I continued to improve (and perhaps "trick my brain?") into accepting that all is good, that tree root and boulder combination ahead is not a threat as long as I apply the skills of weight shifting, trusting the bike, and rolling over this obstacle all the while as I look ahead to the next challenge. "Stay loose and look past the obstacles."
This whole metaphor thing of life, mountain biking and obstacles hit me suddenly one afternoon as I took a break at the bottom of a successfully run single track. And perhaps discovering this new sport of mountain biking at this "mature stage of my life," and experiencing this thrill of earning your downhill rides, has provided yet another explanation for how and why I so appreciate and enjoy my landing spot here in Vermont in this magical place of Stowe.
Look for me outside,
George

Next Blog Post
How has your summer been going?  Were you able to get your well earned and much appreciated Summer Vacation?  We can help you fix that if you haven't with a Stowe Summer Vacation. We have had and continue…