Our Favorite Stowe Restaurants of 2022 (When You Have a 7 and 9 Year Old in Tow!)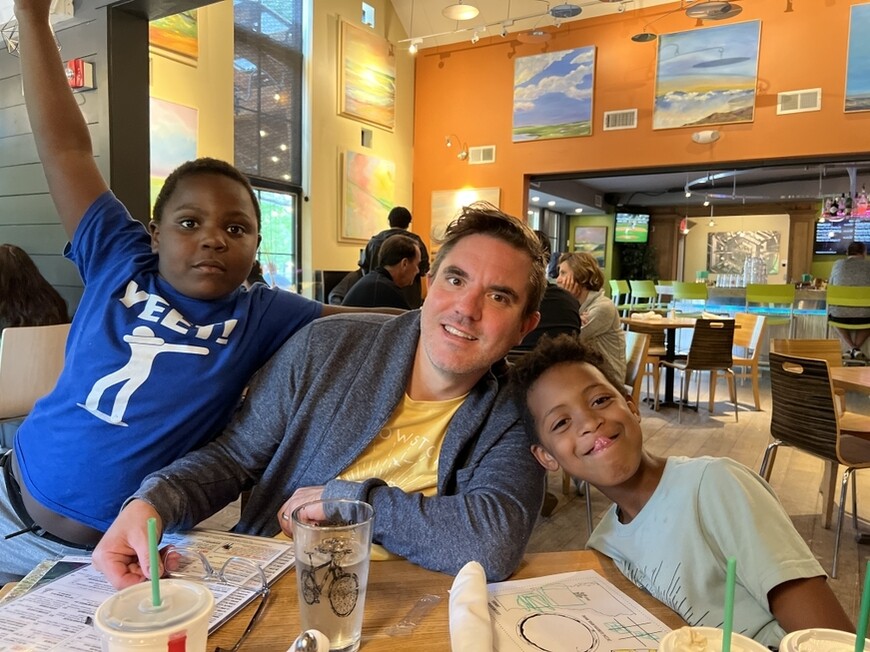 As new owners of the Brass Lantern Inn, we've been excited to dive into the Stowe community, buying local, both for our breakfasts and our interior decor, discovering local hang outs and discovering restaurants that will please both dads and kids alike. Below is our list of some of our favorites … but beware, there are so many wonderful places yet to explore!
Favorite Pizza
Piecasso. This is an easy one. As a east coast kid living on Ohio the last 12 years, I yearned for a triangle of pizza - yes, Ohioans cut pizzas into tiny squares! Ugh. So what a delight to get back to some real pizza. The restaurant is great for kids and the food is lovely. PS - they also DELIVER - a rare treat in Stowe.
Favorite Patio
Idletyme Brewing. Obvi! The outdoor space is a place of buzz - not pretentious, friendly, and with enough seating that you can usually get a table almost immediately. And it's right on the bike path! And the Vermont Cheese Fritters - order, and order often. We're not really of fan of sitting inside, but as winter approaches, the cozy interior might just be what the doctor ordered.
Favorite Fancy Restaurant (that welcomes kids)
Michael's on the Hill. We went to this restaurant for Andrew's birthday. Slightly outside of Stowe, the drive isn't bad at all and the location is easily identifiable. The staff were wonderful with the kids, listening to their orders and ensuring their experience was a lovely as ours. And, the food was wonderful!
Kid's Favorite Restaurant
Sushi Yoshi. Our kids are obsessed with Sushi Yoshi - and we haven't even experienced the hibachi yet! They love the lo mein noodles and the sushi, and we love them too! While the menu can seem limited - especially if your kids want to eat their all the time - the standards are good enough to keep bringing you back! And, they serve Alchemist beer for a criminally cheap price.
Favorite Eclectic GastroPub
Doc Ponds. This is Don's top pick for a casual dinner that feels more upscale. Some of the house feels that the menu can be a little limited, but the items you order are always delicious. The small patio is lovely and servers are super friendly.
Favorite Quick Snack
Dedalus. This lovely wine shop has delicious baked goods and sandwiches for quick take-out. Pricey, yes. But close your eyes, take a bite, and for a split second you'll have a memory of your recent vacation in France.
Favorite Easy Brunch for the Family
Skinny Pancake. A kid-friendly destination that serves kid-friendly foods all day. With kids, you're alway looking for the reliable. And this is it. And with kids that is a goldmine. Add on that every time we've been, there has been room to sit, the kids can be a little rambunctious, and the food is always great. And there's wine.
Favorite Local Hangout We Need to Try Without Kids
The Backyard. We have eaten here twice and I still don't feel like we've really experienced it. Both times we've dealt with kid drama. The menu is varied and the cocktails are tasty. And it's a location we always mention and the kids say no (remind me why we let our kids have a say in where we eat?). We'll be back … without children.
Favorite Place to View Locals in their Natural Habitat
Matterhorn. This place is a great place where locals and tourist mingle, kids run around, and a small pizza is actually able to feed 2 or 3 people. The service is lovely, the drinks are good, and the ambiance is lively. This is a great spot - parking can be tricky on a busy night so the earlier you can arrive, the better. We started visiting too late in the season for the patio but we hear it's a great spot.
Favorite Place for A Hearty Lunch in the Village
Piecemeal Pies. We are Anglophiles around here so were thrilled when Piecemeal Pies opened this past summer. Their traditional Britsh meat pies are delicious, and the kids enjoy the sausage rolls! We're excited for dinner hours and online ordering so we can add them to our rotation for ordering in too.
Favorite Place When Everyone Wants Something Different
The Bench. The Bench calls itself "Vermont Comfort Food" and that certainly is what they are! What we love is that they have pizza, full entrees, sandwiches and burgers, so you should be able to find something for everyone. Our daughter enjoys their Mac and Cheese, and our son loves the pizza (which he loves pretty much everywhere we go)!
There are so many other great places in town too, like Trapp Family Bierhall or the newer American Flatbread. Stowe has so many great restaurants, that with kids or no, we know you'll have a great time when you visit!
And, places we haven't tried, but are making it a priority to in 2023 …
Cork, The Whip, Harrison's, Plate, Bistro at Ten Acres (we're going there this week for Don's birthday!), Edson Hill, Salute, Trattoria La Festa, and others, and we are really looking forward to the new BBQ place Stowe Cider is putting in! We haven't even made it into Waterbury!
Wishing you and yours happy eating and Seasons Greetings!
Next Blog Post
Holiday updates from the Brass Lantern