Our Golden Season is Upon Us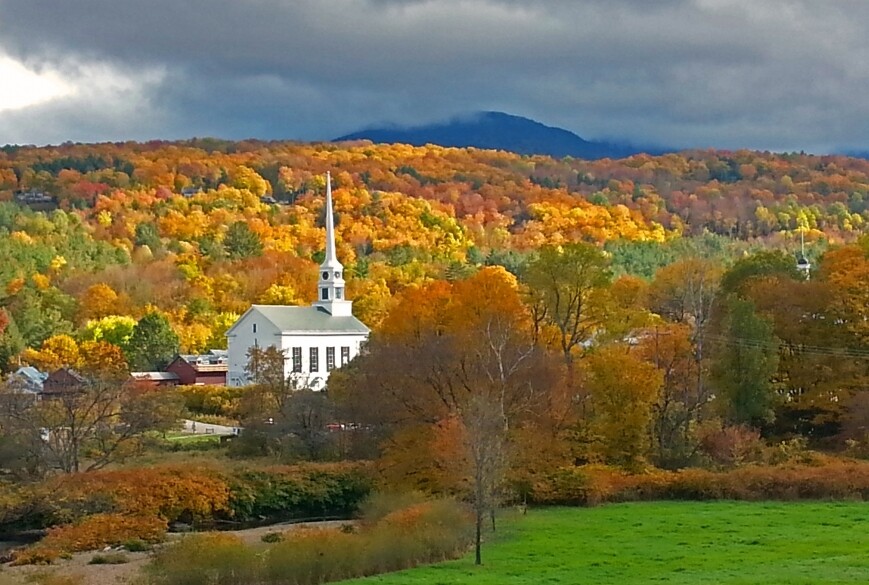 While of course we enjoy each of our distinct four seasons here in Stowe, without a doubt, we love our Fall Foliage Season. We also know that this golden season is one of the most popular with our guests as many of our rooms from late September through mid October have been reserved since February/March of this year.
It is a "bucket list" kind of adventure for many of our guests as most "fall" into the category of retired teacher (typically, always working at this time of year), British (visiting New England with scenery unlike what they would find on the other side of the pond), and photobugs that are here to find that postcard scene. It is also a time for distant guests from across the world, Australia, Japan, and India to make this migration to Vermont at this point in the lunar calendar year.
So far, the colors have been a bit hesitant to show and the temperatures have mostly been above normal, however, there are signs that autumn is just around the corner. As I write this note, the British Invasion is wrapping up and is our official kick-off for the season. This town wide event is a great way to start the season with a Friday night block party with live music, dancing in the streets, with antique and new British cars on display all along Main Street.
Oktoberfest! First one was yesterday hosted by the von Trapp Brewing company at their new Bierhall. What a great day it was, German oompah music, roving singer/accordionist, amazing food, magnificent setting in the mountains and of course plenty of wonderful Trapp Lager. My favorite beer, "Oktoberfest" (of course). I like this beer so much I explained to Johannes von Trapp that after the season he should just change the name – it's that good!! I think the von Trapp's have hit a home run with their new Bierhall. If you are in Stowe we think this is a must stop.
Our next Stowe Oktoberfest is the weekend long event produced by the Stowe Rotary Club. Starting on Friday night, Sept. 30 is Rocktoberfest, live music, bratwursts, and Trapp Lager Beer (yep, the Stowe Rotary knows a good thing when they see it and well, Johannes is a Stowe Rotarian and a very generous donor for this event). Saturday and Sunday is a full day each of oompah music, yodeling, and yes, Trapp Lager Beer, all in celebrating the season. We typically see more than 2,500 people through the front door of the big tent. If you are in town you have to check it out.
Prost!!
Next Blog Post
We are grateful for this opportunity to be here in Stowe, Vermont at the Brass Lantern Inn at all times and certainly at this time and season of the year.  We recognize that we are uniquely rewarded by…