Ski Like a Local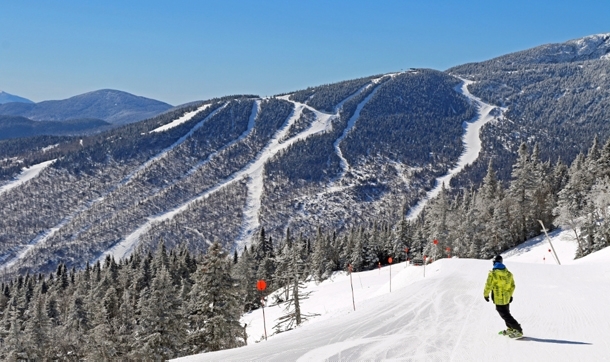 I know, it is still summer and trust me, we aren't wishing this wonderful summer here in Stowe away anytime soon. However, we wanted to pass along this bit of news regarding what we anticipate to be valuable information for our ski and snowboard guests.
As you may have heard, Vail Resorts purchased the Stowe Mountain Resort this summer. While there are expected to be some positive operational changes (traffic and parking, no. 1) with that transfer of ownership, everything we have heard, and read in the paper, indicates that the experience on the mountain will be even better than ever this coming 2017/2018 winter season.
One significant change and one that we hope gets the attention of our skiing/riding guests is the Epic Pass. As many may already know, the Vail Resort model seems focused on selling passes versus daily lift tickets. And as you investigate this difference further you will note that the skiing/riding experience at Stowe has new way to have a more valuable ski/ride experience through the Epic Pass.
The most popular Epic Pass provides the pass holder an amazing option for Unlimited Access to Stowe, several resorts west of the Mississippi as well as access, with some restrictions, to several exclusive Resorts in Europe within the coming ski season 2017/2018. This standard Epic Pass is listed at $849 (now through Sept. 4, when we understand it is expected to increase in price). The typical walk up rate last year at Stowe Mountain Resort was $122. While there were certainly some deals to be had and we did have access to some of those deals and pass along the savings from the Resort to you, the point is with the new price of the Epic Pass at $849 you would pay for the pass with the $122 walk up rate in less than 7 days of skiing/riding, either here OR a combination of here AND out west!
And, the beauty of this pass, especially for those within driving range of Stowe or even fly/drive you can "Ski Like a Local" here in Stowe.
How? Well, say you planned your escape to Stowe, and ok, New England weather becomes, well, New England weather. You find yourself on the mountain and the conditions are as we say, not exactly pristine. Well, if you had plunked down the walk up rate (or even a discounted rate) you may have felt the need to "tough it out" and ski/ride through that weather. With this pass you can do as the locals, try a few runs, say, ok this isn't my cup of tea, count it as a ski day, and head for early après ski happenings in town and not feel the loss as you would before; just like a local. All knowing you can come back and ski it again as you have paid for unlimited lifts this season through that pass.
As a "local" ourselves (a transplanted local, for sure) we love the pass idea as it allows us to get as many runs in as possible between check out and check in on select weekdays and the occasional Sunday! We, as you may be able to see here, are very excited to welcome our new neighbor to Stowe with their Epic Pass. Give us a call and let us help you coordinate a unique experience here in Stowe, Vermont.
See you outside,
George
Next Blog Post
The report regarding mid summer conditions in Stowe is that it has been a warm, ok, a bit warmer than usual and sunny summer.  It has also been a busy summer here in Stowe and at the Brass Lantern Inn. …