Sunsets in Stowe, Vermont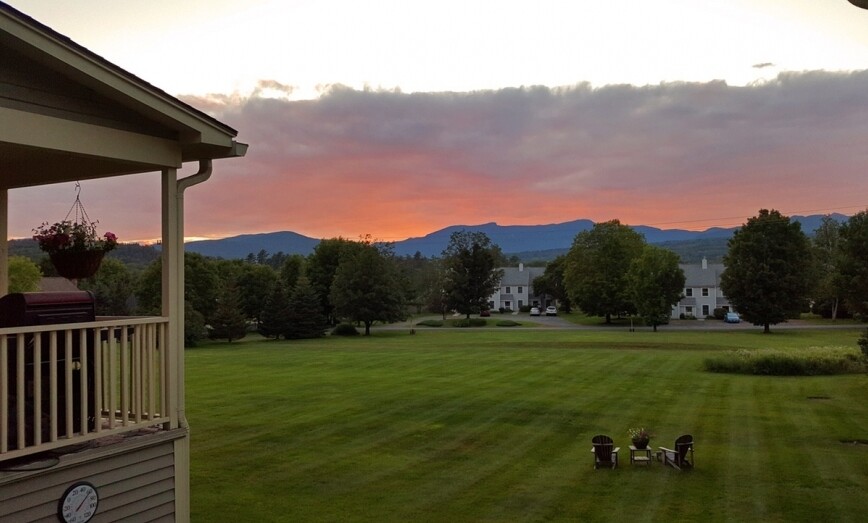 We are very fortunate to have some pretty amazing sunsets here in Stowe. This past Sunday afternoon/evening, for example, Mary Anne and I attended the "Music in the Meadows" Concert Series at the Trapp Family Lodge Meadow. What a beautiful venue to watch the day turn into night.
With a generous glass (or two…) of Chardonnay, some Extra Sharp Cheddar Cabot Cheese, French bread with a little prosciutto, live music, in this case, from "Crooked Still" (folk/bluegrass "with a contemporary twist") and wonderful weather, I found myself absorbed with the ever changing natural light of the background scenery and keeping only an ear on the great music. It is amazing how quickly and dramatically the light changes the sense of depth and scale of the Sterling Mountain Range. As any amateur photographer can easily attest, it is impossible to capture that sense with a photograph, no matter how fancy of a camera you may or may not have. Ok, and maybe that glass of Chardonnay had some effect as well…
At this concert we shared the evening with some good friends that happen to also be Innkeepers in this small New England town. Like most people, our community of friends and neighbors is also closely tied with our type of business and profession which in our current station in life happens to be Innkeeping. We all have a feeling of deep appreciation for where we live and the opportunities we have at this point in our lives to participate in this lifestyle.
Last night, the sunset from our back porch was as dramatic as last night but without the live music. Instead, we shared that moment of the sun slipping behind "the slumbering man" (Mt. Mansfield) with some wonderful guests from Boston as they played a rousing game of scrabble on a blanket stretched out on the floor. The sun going down behind Mt. Mansfield, highlighted by streams of light through the distant thunderhead clouds, again memorable, but so very difficult to fully capture or permanently record. Good thing we can see this event repeated many times over in a typical summer!
Summer in Stowe, Vermont, filled with great memories…. Why not come on up to Stowe and create your own here at the Brass Lantern Inn?
Next Blog Post
Of course we very much enjoy the opportunity to chat with our guests and learn a bit about what our guests do or have retired from back home. And as part of the verbal exchange with our guests we also…