Top Three Things I Learned in Innkeeping School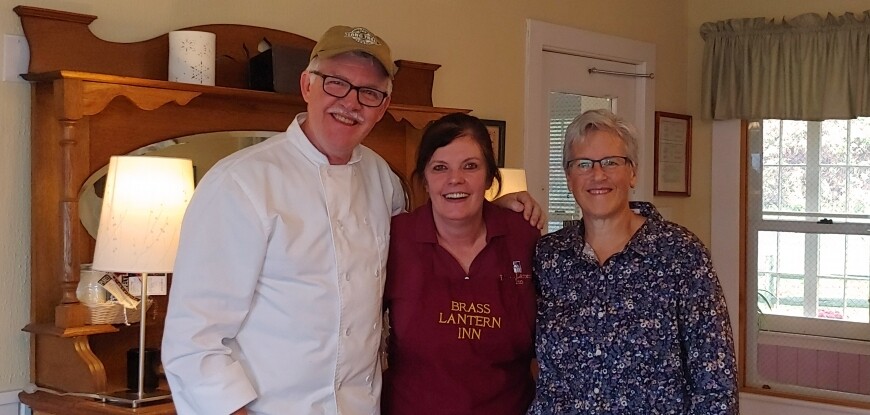 While we just passed our 10th year of Innkeeping here at the Brass Lantern Inn, the germ of the dream began many years prior. In that dream phase, I was cognizant enough to consider that without thorough research into this notion of hosting guests as our livelihood, the dream could quickly become a nightmare.
In my research I discovered that there are folks out there that are in the business of guiding Aspiring Innkeepers into this business of owning and managing your own dream of a Bed & Breakfast.
We were fortunate enough to find Rick, Janet Wolf and Peter Scherman of The B&B Team, with primary offices in Virginia and Maine. From review of their website, and calls to Rick, it became clear that attending one of their Aspiring Innkeeper Seminars would be invaluable to our consideration and in my case, hopeful planning of this business and lifestyle. Seriously, without this seminar we would have had a steep learning curve and not really confident we would have been able to now celebrate our 10th Anniversary!
In April of 2008, Mary Anne and I attended a three day seminar through the B&B Team for Aspiring Innkeepers which was held at the Captain Jefferds Inn in Kennebunkport, Maine. It was a wonderful experience, both the stay at this boutique, historic Inn, as well as getting the no nonsense, nuts and bolts, of how, why and/or the why not's regarding pursuing your dream of Innkeeping.
- The Top Three Teaching Moments -
1. "It's not just about Warm Muffins!"
Rick mentioned, probably in the opening session, that the romantic notion of serving your guests warm muffins as the quintessential idea of what Innkeeping is all about, is, well, just that, a romantic notion. Now, of course, while it is important to have the level of service to work warm, fresh, muffins into the guest's overall experience, the level of work required for both front of house and back of house is much more involved than creating your own amazing blueberry muffin recipe. Or in our case, discovering the Jordan Marsh Blueberry Muffins.
On our first visit to the Brass Lantern Inn in March of 2009, of the many, many pieces and parts of the workings of this Inn, I noticed the signage on the door between the commercial kitchen and the warm, bright, Mt. Mansfield facing, breakfast room. On the breakfast room side of the door it reads, "Private." On the kitchen side the sign simply states, "Smile."
It goes without saying that of course to provide your guests with an exceptional experience you need to be on your "A-game" with positive energy, interest and efficient service to your guests, at all times. You also need to do your homework. Once you are actually in the business you realize, wow, this is a lot to juggle and will need to be managed carefully by our business approach to keep things fresh. So, smile, it is!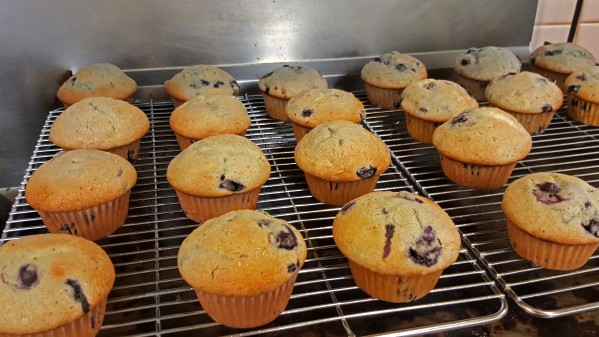 2. "Your toughest challenge with be staffing"
With 9 guest rooms ranging in size from intimately scaled to large studio size, with a total building area of 8,000 s.f., it was clear that it would take more than just the dedication of Mary Anne and myself to pull this off.
Oh, and that idea of a "family business" as in, including our teenage kids in the busy… HA, ha, ha, lol!
When it comes to "work smarter, not harder," they taught me a lesson or two here as each of our kids are very successful in their own adventures outside of the Inn!
As we advertised for our first part-time housekeeper I was truly not thinking that this statement in the seminar would ring so true. Though, quickly, as I realized myself in that first few months of ownership, housekeeping at the Brass Lantern Inn is tough, physically demanding work.
Again, nine guest rooms, each with a private bath, large common areas; living room, game room, and breakfast room which on many days every single space needs some level of attention to keep the Inn looking fresh and clean. Our multiple stairways are a true test of physical character and condition, we know, been there, done that and still do it at various times!
Second, we are competing with many other tourist centric businesses here in Stowe; restaurants, shops, small to large hotels, all in a rural setting. The total population for the state of Vermont is hovering around 626,000 (for the entire State!). Vermont is the second least populated state in the country so our labor pool is much smaller than what I had considered, or more, importantly, assumed in my planning stage. Everyone wants to work, right?
At our scale of operations we know it is important to have staff that feel the same sense of ownership of the Brass Lantern Inn as we do. And we have discovered it is hard to train that element, it really needs to be part of the staff members personality.
After almost 10 years of working either alone or with seasonal part time help we feel that we finally found our "Angel" of a team member with Bertha.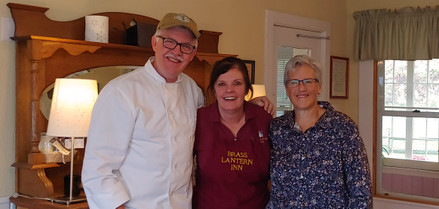 Bertha is much more than a "Housekeeper," she is really what we consider to be our "Inn Attendant." While housekeeping is one of the primary functions of what she does for us everyday, it is all of the other functions she performs, both, front of house with our guests, and, behind the scenes that all add up to an an exceptional stay for our guests. The opportunity for service is never taken for granted and Bertha lives and breathes this in her position here with us. Bertha, as a member of our hospitality team, also allows us to have a life beyond Innkeeping. That is critical to our enjoyment of Innkeeping!
3. "Location, Location, Location"
Not exactly what you might think here. While yes, we always wanted to be in a location that had 4 strong business seasons, it was clear that location is also a critical piece of consideration aligned with the concept of life quality for us, the Innkeepers. And in Stowe, while we have at least 3 strong seasons; summer, fall foliage, and winter, the secret should get out there that spring is an amazing time to be here (for another blog topic…). We ski here in April!
The real lesson here, and this lesson actually came from Sarah, one of the owners/innkeepers of Captain Jefferds Inn, included the importance of community. One of the truly great things about that Aspiring Innkeeper Seminar was the opportunity to meet with and chat about this business with the Innkeepers on the other side of that "private" door.
Sarah made the comment, "Be sure you purchase your Inn in an area that you really like. Because, guess what, you will be there a lot!" So true. The beauty in owning and living in your business here is Stowe is that we have essentially everything we need for an amazing quality of life. Each season has its own special character whether you live here or visit this little corner of paradise.
Happy Travels,
George
Next Blog Post
There are so many winter sports to choose from in Stowe, Vermont and we are located in the heart of it.