Welcoming Back Friends in Stowe, VT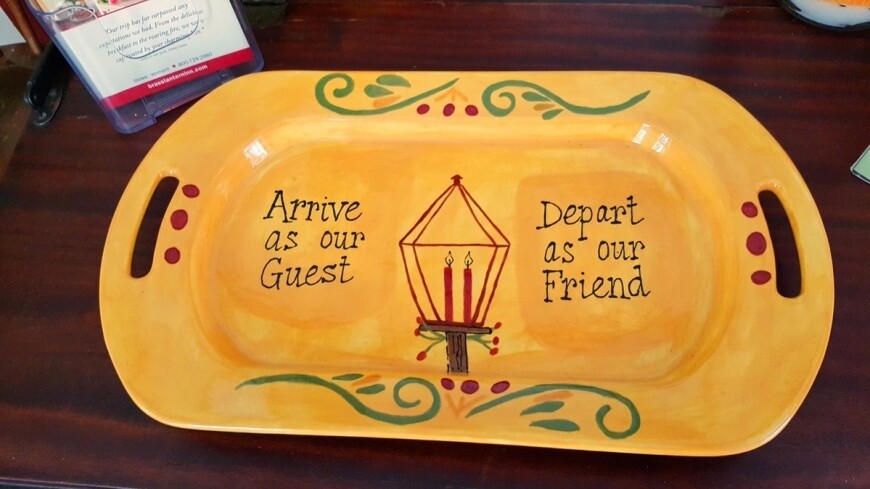 Of the many rewards of this adventure of being Owners and Innkeepers of the Brass Lantern Inn here in Stowe, Vermont, one of the most special to us is the opportunity to welcome back guests, rather, friends.
We recognize that part of the experience of staying in an intimately scaled Bed & Breakfast such as ours is the sense of place that is only available in this unique style of lodging. In our search for a lodging business we were continually attracted to those B&B's that were in the 8 to 12 guest room size. With our 9 guest rooms, and, both of us directly involved in the day to day operations of this Inn, we then have the reward of meeting and hosting so many wonderful guests that when they can, and in every way, return as our friends.
Just this past Memorial Day Weekend I was able to slip out of the Inn (thank you Mary Anne!) and go mountain biking with a friend who has stayed here multiple times over the past 7-1/2 years of our tenure here. And due to the generous offer of another returning friend, I have had the chance to drive a Ford Mustang, "Bullitt," created in similar style to the 1968 Mustang GT and movie of the same name, starring Steve McQueen. Remember those car chase scenes through the streets of San Francisco? Ok, in my little tour through the back country roads of Vermont, I kept all four wheels on the ground (as we of course want our friends to return…). It was just so much fun getting behind the wheel of 300 horses.
Through the various stays of our friends, we catch up with guests who have become engaged, married, are expecting their first child, are taking their first trip away from the kids, visiting their kids for Parent's Weekend at one of the local colleges and universities, and/or, just returning in search of a peaceful retreat. We continue to share book recommendations with our friends both while here during their stay and through e-mail, exchange holiday cards, etc. We have "regulars" affectionately regarded as "Inn-mates" but always, always recognized as Friends.
As those who have stayed here or other small lodging properties can most likely attest, the social component of interacting with the Innkeepers, staff and other guests is just one of the things that make a stay at a B&B a positively memorable stay. We recognize, very directly, the gift of each guest who stays here and for those who return whether only once or regularly of each friend that through their direct support of our business we are permitted the "pinch-me-to-make-this-real" kind of lifestyle.
"Arrive as guests, depart as Friends" – the photo at the top of this post, is a custom designed and created tray by one of our Friends!
Happy Travels,
George
Next Blog Post
In the spring of 2016 I had the opportunity to take a 6 week (one night a week) Mountain Bike Clinic with the IMBA Certified Instructor and owner of Four Points Mountain Bike School, Rick Sokoloff (and…