Well, Welcome Back Winter!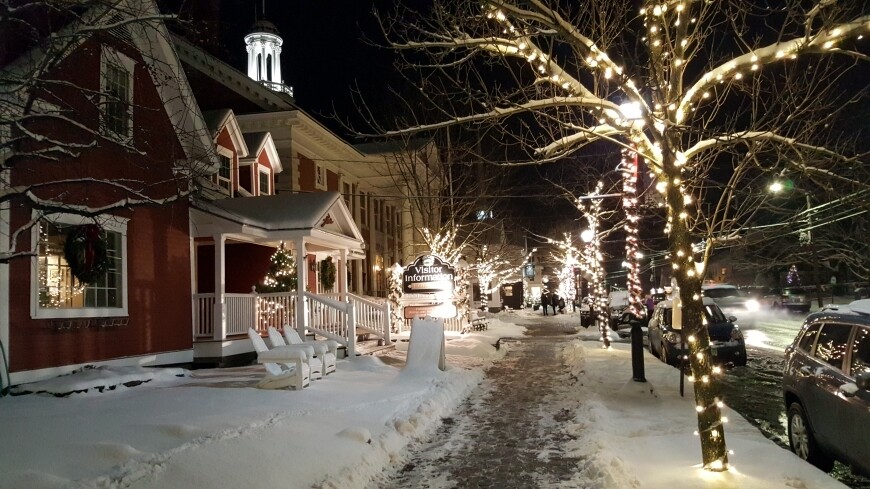 We have fortunately had an early return to winter here in Stowe, Vermont. Ok, for our southern friends, or family that may say, "what do you mean, fortunate?", we offer the following explanation.
Of course if you have followed us in previous blogs you already know that we specifically selected Stowe, Vermont and the Brass Lantern Inn as our home base for this latest leg of our journey through life due in part to the distincly beautiful and wonderful four seasons of northern Vermont.
And an early arrival of snow this year allows us to enjoy some of our favorite things, such as:
flannel lined jeans, early Christmas presents in the shape of snowshoes, freshly tuned downhill skis, skiing before Thanksgiving!, sharing Christmas Cookies with our guests, chatting with our guests around the fireplace, hiking to Moss Glen Falls to see the everchanging ice sculpture by Mother Nature, hot chocolate at the "Octagon House" at the top of the quad chair (seriously, this hot chocolate alone is worth the ride up!), shoveling snow (I know, weird), skiing (or did I already say that?), helping our guests plan the "perfect play day outside", a good book, a comfortable chaise lounge and snow falling softly just beyond our window…
These are just a few of our favorites and we are absolutely sure that we can help you discover your own favorites here at the Brass Lantern Inn as your choice of lodging in Stowe, Vermont. We invite you to see for yourself what we have found as a perfect place for the quintessential winter wonderland experience.
Don't forget to check out the "View our Current Specials" section of this blog as we have some new early winter specials for your consideration!
Happy Holidays, Merry Christmas, and Happy New Year, 2013. We'll see you outside!
Warmest Wishes,
Mary Anne and George
Next Blog Post
We enjoy and are truly blessed to be able to showcase Vermont winters to all of our guests and have realized that many of our guests are Snowbirds in what would be considered a non-traditional migration.…