Where Did Summer Go?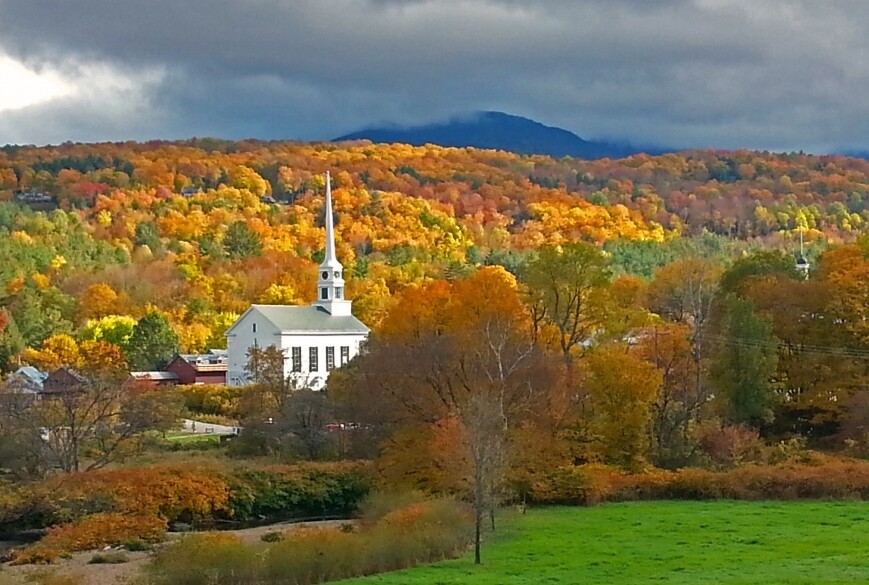 Not that we aren't excited to embrace our next season!
We are moving quickly into our Fall Foliage Season. One of our busiest as we look forward welcoming back guests/friends as well as many new guests here to witness the amazing display of the annual turning of the leaves from green to gold, yellow and reds. The temperatures have finally begun to drop into a range expected – sunny and warm by mid-day and crisp and cool at night. No frost yet (as of 9/16/12) but we expect to see it soon. A welcome relief after an above normal temperature we experienced here in Stowe,
Vermont this summer.
There is already some chatter in town regarding predictions of how much snow will we see this winter! Various images of extended forecast weather maps on the internet have begun to circulate on Facebook and through the local e-mails and my favorite one shows two divergent jet streams coming together in southern New England with a bubble of "above normal snow" centered right smack dab over Vermont. Ok, I did not get the full source of this particular weather map but we certainly hope this prediction comes true.
Stowe Mountain Resort typically works towards a Thanksgiving Weekend opening! The countdown to skiing and all of our great winter activities has definitely begun here in Stowe, Vermont.
And as we look ahead to the Thanksgiving Season we realize the blessing and good fortune we have found here in Stowe as the latest Innkeepers/Stewards of the Brass Lantern Inn. December 16th will mark only the 3rd Anniversary of when we took ownership. In that relatively short time we have hosted guests from 39 of our United States and 24 countries. Sharing life stories with so many guests from around the world is truly the greatest perk of this "job."
To let our past guests and potential guests know of our gratefulness with this amazing lifestyle we offer you a special "Thank You Discount." More details are on our home page under the "make a reservation." Once on that page click on the tab, "Discounts and packages." You can save 35% off of your third consecutive night for stays completed between 10/28 and 12/4/12. This discounted rate is on top of our already quiet season rates!
We hope to see you soon!
Next Blog Post
We have fortunately had an early return to winter here in Stowe, Vermont. Ok, for our southern friends, or family that may say, "what do you mean, fortunate?", we offer the following explanation. Of course…