Winter's Last Hurrah?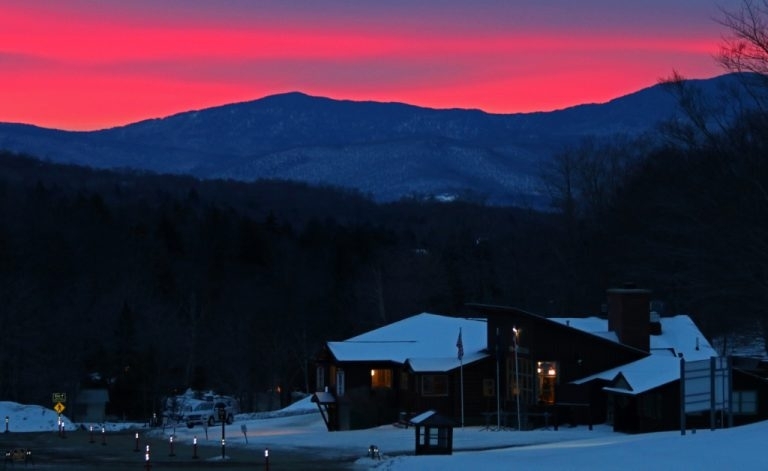 As I write this post on the evening of March 13, 2017, we are positively giddy with excitement waiting for our next big dump of snow. The National Weather service and local reports are calling for snow depths of anywhere between 16 to 20+" of snow between tomorrow, mid-day through Weds., evening, 3/15. And we say, "it's about time!"
Admittedly, it has been a schizophrenic kind of winter. We were skiing, as if on cue, on the Saturday right after Thanksgiving, 2016. We received more than 5 feet total of snow in the month of December, 2016, alone. Then, the dreaded January thaw hit us. And hit us again in the second week of January. The Stowe Mountain Resort crews did an amazing job taking whatever Mother Nature threw at them and turning it into (for the most part) some really great conditions. Ok, there was a day that we did two runs and called it and then had a early lunch in town! So yes, you had to have the luxury of an extended stay this past January to get in any consistently good skiing/riding conditions.
February was ushered in with, and I really do not use this term lightly, some epic powder days. We had a couple of days where we easily hit 16 to 18″ of absolute champagne powder. There was so much excitement in town during that period I heard of people, and felt some of this myself, having trouble falling asleep the nights before, because of the anticipation of the stellar conditions that we were predicted and hit us with even more than what was predicted. It was truly a nice little reward for getting through those January thaws.
After President's day Weekend we had our February thaw. We actually hit 62 degrees and a few follow up days of mid to upper 50's. Oh, and I forgot to mention, rain, yes, lots of it during that brief period. Fortunately, the mountain had a 60″ base or more on the vast majority of trails but the couple of days of 1/2″ or more of rain did take its toll. When the temps. the snow guns were fired back up and greatly improved the conditions.
All that to say, we have a full house set up for this weekend and anyone who skis, snowboards, cross-country skis, snowshoes or even if you just like to drink hot chocolate (or perhaps a Vermont Craft Beer) by the fire and watch it snow will be in the perfect spot this week and weekend here in Stowe, Vermont. Typically, March is one of our best months of the year to play outside with our snow equipment. The sun is getting closer to the position of vernal equinox as our days are getting longer, the temperatures resist those below zero (and more with that silly wind chill factor) levels and many times, we can have lunch outside at the Midway Lodge. Also, many times, the snowfalls in March are more legendary than any other time of the preceding winter.
We are hopeful that with this pending Vermont snow storm and perhaps another one to to finish out the season we will be able to keep the skis firmly in place within the truck to allow us, on a moments notice, to spring for the mountains. And a "Last Hurrah" offer – watch the forecasts, plan your "sick day" or "snow day" (call it what you will) and if you can make a last minute trip to get outside with us, we can offer you a wonderful stay here at the Brass Lantern Inn, fabulous breakfast, that we can make early if you want, so that you can grab that "first chair" up Mt. Mansfield.
See you outside,
George
Next Blog Post
…May projects! Here at the Brass Lantern Inn, and especially on Mt. Mansfield, we recognize that there is typically quite a back and forth response in the tug of war between winter and spring.  We tend…