Quiche Brass Lantern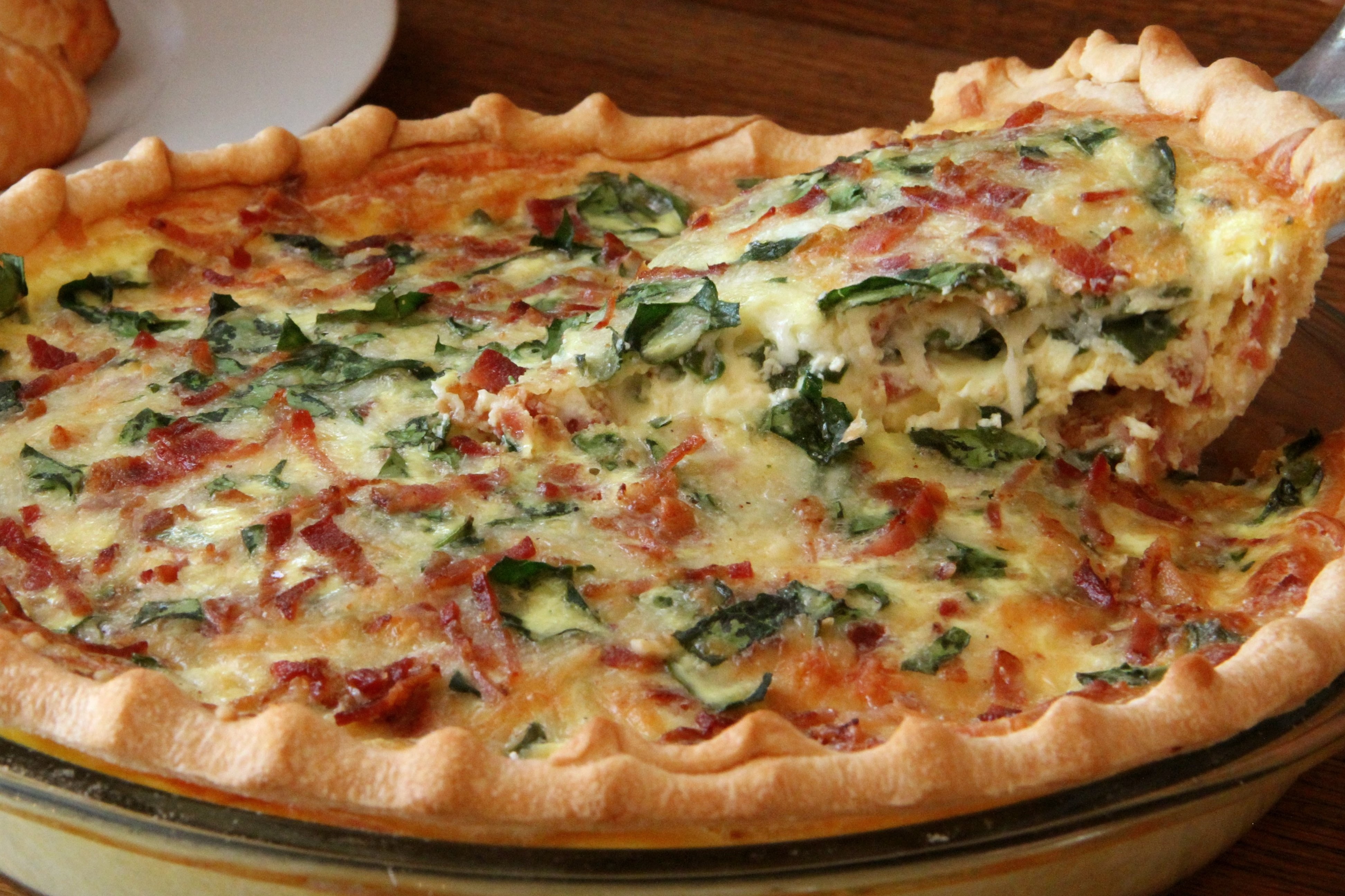 Ingredients
1 9" pastry shell unbaked, if time permits I do from scratch, otherwise Pillsbury
8 slices of applewood smoked bacon, cooked, drained and crumbled
1 cup of chopped spinach
2 scallions chopped
2 cups of shredded Swiss Cheese – quality of the cheese here is very important. I use Finlandia Swiss
1/8 cup of smoked gruyere cheese shredded
4 Large eggs lightly beaten
1 cup of whole milk
¾ cup of light cream
1 tablespoon all purpose flour
1/8 teaspoon of baking powder
½ teaspoon of salt
1/8 teaspoon of freshly ground nutmeg
Directions
Preheat oven to 450 degrees. Bake pastry shell 7 mins. or until lightly brown. I typically put fork holes in the bottom of the pastry shell to keep it from puffing up. Remove baked pastry shell and immediately spread some of the Swiss Cheese on pastry shell – this seals up the holes in the shell and helps to keep the egg mixture from going below the pastry shell and creating a mushy pie crust.
Reduce over temp. to 325 degrees. In alternating layers add bacon, cheeses, scallions and spinach using all of these ingredients but holding a couple tablespoons of the bacon to drizzle on top of the egg mixture.
In a medium bowl, combine lightly beaten eggs, milk, flour, baking powder, salt and nutmeg. Pour egg mixture intro pastry shell, sprinkle top with reserved bacon.
Bake at 325 degrees for approx. 45 to 55 mins. Be careful not to overcook as quiche will continue to cook a bit after pulling from the oven. When you pull it out let stand for 10 mins. then cover lightly with foil. Let quiche rest for at least 20 mins. in total before cutting and serving. I keep the quiche warm in a convection oven with temp. set at 120 for no more than 10 mins. in and 15 mins. out through the morning breakfast service.