Fluffy Pumpkin Pancakes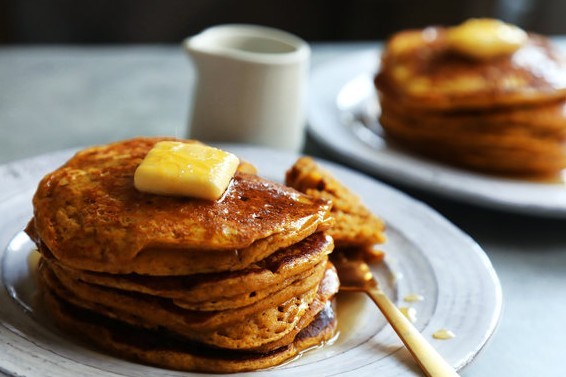 Ingredients
Pumpkin Pancakes
Pancake Mix –
2 cups All purpose flour
2 teaspoons Baking Powder
1 teaspoon Baking Soda
½ teaspoon Salt
2 Tablespoons Brown Sugar
2 large eggs Lightly beaten
3 cups Buttermilk
4 Tablespoons Unsalted Butter, melted
Combined with -
1-1/2 tsp Pumpkin Pie Spice
½ cup Canned Pumpkin
Maple Whipping Cream -

1 cup Heavy Whipping Cream
2 Tablespoons Vermont (of course…;-) Maple Syrup
Dash Ground Cinnamon
Directions
For Pumpkin Pancakes:
· Whisk together flour, baking powder, baking soda, salt, and brown sugar in a medium bowl.
· Add eggs, buttermilk, and melted butter; whisk to combine
· Fold in pumpkin spice and canned pumpkin until fully blended.
· Pour slightly less than ¼ cup of batter per pancake onto lightly buttered and preheated 375 degree griddle
· Cook about 1-1/2 mins. per side
For Maple Whipping Cream:
· In a chilled bowl, beat whipping cream and maple syrup until stiff
· Serve pancakes with a dollop of maple whipping cream and a sprinkle of fresh ground nutmeg
This should serve about 6 people with two "healthy size" pancakes each! Enjoy!!